Adding your devices to SyncMo is extremely straight forward. Please ensure that your computer supports bluetooth, and that the version of bluetooth is Bluetooth 4.0 BLE or higher (this should be the case for any hardware less than 10 years old).
How do I connect my adult toys with SyncMo?
First please check that your toy is in the supported toy list: https://www.sync-mo.com/supported-toys/
Next you will need to select Add Device in the Adult Toy Settings window within SyncMo. You can open this by clicking on the white SyncMo icon in the address bar.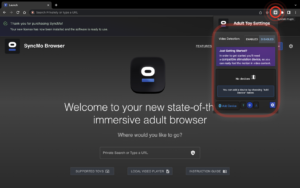 No upgrades to your adult toy are required and you do not need to download any drivers or additional software to add your toys. Compatibility for all supported toys come built into the SyncMo browser. Your adult toy will connect simply by choosing add device, and selecting it from the list, after putting the toy into discovery mode.
For more information on connecting adult toys to the SyncMo browser please follow the quick start guide: 
Quick Start Guide (PDF)
How do I turn on bluetooth discovery mode on my adult toy?
You can usually put your adult toy into discovery mode by keeping the device powered off, and then holding the power button for an extended period of time (5 seconds or more). This should make the bluetooth light begin flashing indicating that the device is now in discovery mode.
Please refer to the manual for your adult toy for the exact procedure. Pairing your adult toy with SyncMo requires the same actions on your toy as connecting your adult toy to the manufacturer's app.